Social Networking Company ImaHima Owns Patents for Mobile Check-In Technology
May 11, 2012
tags: check-in, mobile, patent, social networking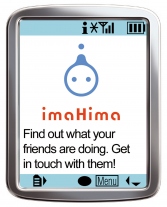 Envision IP has been looking into the patent portfolio of a Japan-based company called ImaHima (http://www.imahima.com/en). In Japanese, ImaHima means "Are you free now?" The company owns patented technology that allows sharing your current status (i.e., location, activity, mood, etc.) among friends using mobile phones, and technology to display such updates in a news feed-type fashion with commercial advertisements.
We believe that ImaHima's patents, which cover various aspects of location-based status updating and targeted content delivery, are fundamental to the concept of mobile "check-ins". ImaHima's patents all claim priority to December 14, 1999, a time when social networking and mobile smartphone use were in their infancies.
Below is a brief overview of ImaHima's US patent portfolio.
Figure 1 of US 7,822,823, entitled "Systems for communicating current and future activity information among mobile internet users and methods therefor" discloses displaying a feed of status messages from friends on a user's mobile device.

Below is Figure 8 from the '823 patent, which shows an interface for checking-in to a location and providing a current activity or status.
The '823 patent has very interesting claims that cover sending a message to "a plurality of users associated with the sender who have agreed to receive messages from the sender", and where the message can include location information and/or activity information. Simply put, this patent seems to claim location-based mobile check-in technology.
US 7,818,415, having the same title as the '823 patent, has claims reciting populating a news feed with status updates of friends, where the news feed includes "at least one commercial offering". The patent appears to cover a news feed of information that includes advertisements that are relevant to the subject or content of the status updates contained therein.
US 8,005,911 entitled "Systems for communicating current location information among mobile internet users and methods therefor", is similar to the '823 patent, but it specifically claims "automatically making available the received activity information and the location information to persons identified as connected to the first user", where the relationship between the two users is "an agreed-upon connection between the first user and the second user". This appears to be a very early form of not only mobile-based social networking, but also sharing information between online users based on their social relationship.
Finally, US 7,284,033, also similar to the '823 patent, has claims reciting transmitting a status update and location information, where the location information is based on a "sender's non-GPS enabled mobile telephone". This patent is interesting, considering that it claims priority back to December 1999, when location determining means such as triangulation and IP address geo-location technology were not commonplace. However, given today's widespread use of tablet computing devices, many of which are not utilized with GPS or cellular service, the '033 patent appears very relevant in regards to the use of tablets for checking-in purposes.
In addition to US 7284033, US 7818415, US 7822823, and US 8005911, ImaHima owns two pending continuation patent applications before the USPTO, and a pending patent application in Japan.
ImaHima never gained a significant following in the US market, we suspect, due to the adolescence of the desktop-based social networking phenomenon and mobile phone use in the early 2000's. However, with the increasing popularity and use of mobile social networking, ImaHima's patents certainly seem relevant today.